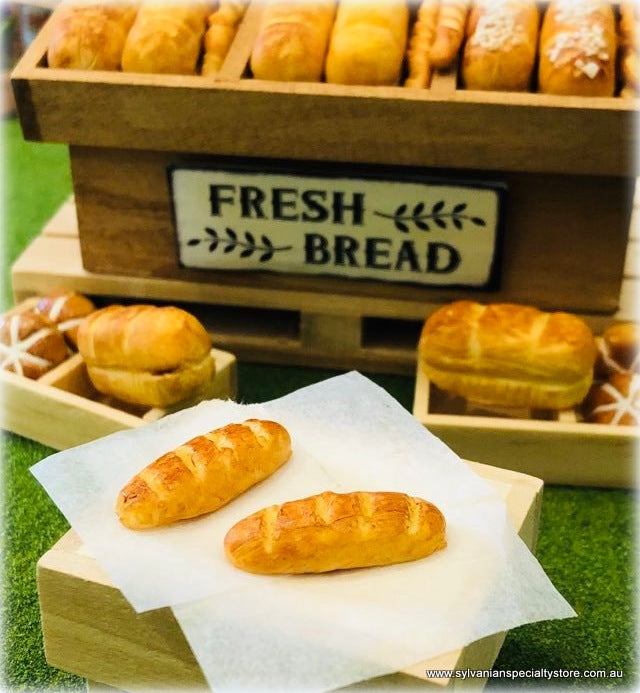 Bread Rolls x 2 - 2.5cm length - Miniature
Miniature
Bread roll x 2 - Dollhouse miniature 1:12 accessory.
Every miniature village needs it's own bakery! We have so many styles of bread in store. See them all in our MARKET MINIATURES
Choose your favourite style of bread from our great selection.
This sale is for 2 x miniature bread rolls.
Measurements: each bread piece is approx 2.5 cm length and 0.9 cm width
This is a 1:12 scale dollhouse miniature item
Non edible.
Other food items in images may be purchase in store also.  These can be purchased from our MINIATURE FOOD ACCESSORIES COLLECTION  There's plenty more types of bread, buns and loaves available too, as well as wooden crates and market stalls in our MINIATURE MARKET COLLECTION
This is not designed to be a toy, but is a miniature collectible, suitable for adult collector's - Age 14+ 
Other figures, accessories, furniture etc seen in images are not included, but are to help demonstrate use of this product only. However other items may be purchased separately if in stock. 
Don't forget to visit our store's THE BLUE COLLECTION for miniature inspiration in blue!
The vintage-style wooden ruler seen as a measure in images is also available for purchase.

See our other Miniature homeware items  in our