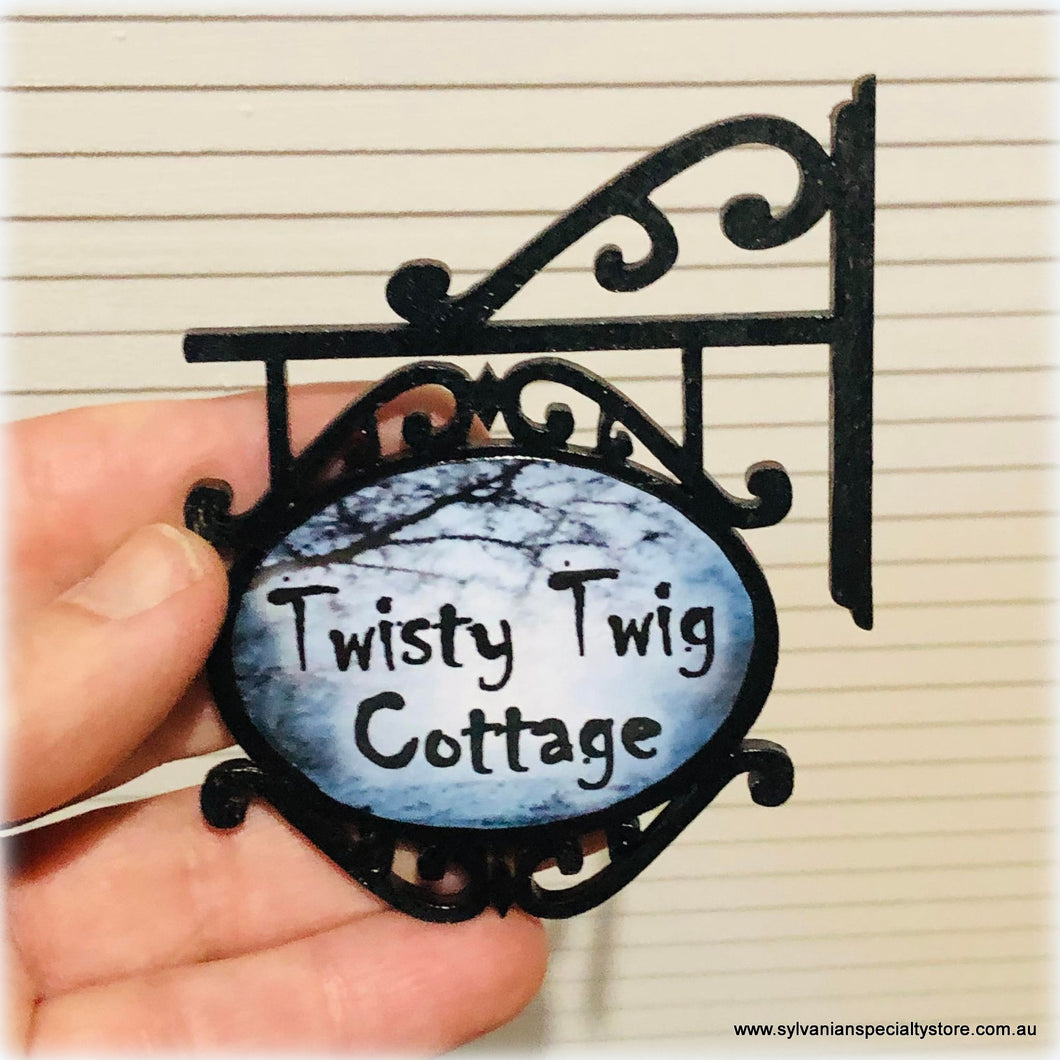 Dollhouse Wall Sign -8 cm high - Twisty Twig Cottage
Handmade Miniature
Regular price $13.90 Sale
Dollhouse Wall Sign - Twisty Twig Cottage - this is a Dollhouse 1:12 Miniature accessory - 8 cm high
This wall sign would be perfect to add to your Halloween-style, gothic or slightly spooky Dollhouse.  The sign doesn't "glow" or "light up" even though it appears to in the pictures. Likely it is the contrast of colours on the sign that gives it this affect.  It has been highly glossed, which also adds some lustre.

This miniature wall is made to be attached to the side of a miniature house, store or wall. We have other Halloween-themed or seasonal signs suitable for dollshouses in our Miniature Signs Collection too, and new signs being added regularly.
Sign is handmade here at Sylvanian Specialty Store.
This sale is for 1 x sign wooden sign.
Ideas for affixing your sign would be to glue it in place, or use a temporary solution such as double-sided tape, which is what I used in the picture below. 
Measurements of sign: 8 cm high. 7 cm wide
The back of the sign is blank as shown below. 
The sign is made of wood, decoupage paper, glues and acrylic seal and acrylic gloss coating.
Other accessories seen in images are not included in this sale, but may be purchased separately in store (depending on stock availability at the time)
More signs of all kinds available here
This is a handmade accessory intended for dollshouse dioramas.
Not Suitable for children. Recommended age 14+ 
You might like to visit our other lovely miniature items in store too. We're always adding to our Miniatures collection and finding something different for you here. 

See plenty more Market Day Miniatures in store too - Fruit, Vegetables and Bread