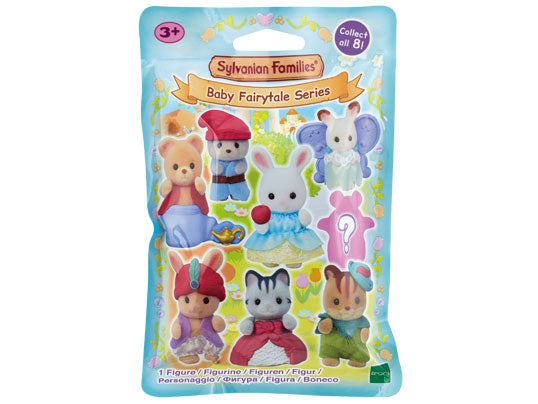 Sylvanian Families Fairytale Blind Bag - Random Bag x 1
Sylvanian Families
Sylvanian Families Fairytale Blind Bag - 1 x Random bag 
In this sale you will receive 1 x Random fairytale blind bag
The Baby Fairy Tales Series features eight different sealed mystery bags, each containing a baby figure and a beautiful fairytale dress, costume or accessory. The mystery is that you wont know which one youve got until you have opened the pack to reveal who is inside!

There are 8 different sets to collect, swap and trade with your friends to complete your entire baby costume series. Here is a list below of the possible figures that might be in your random blind bag. You'll find out just which one when you open it!


Sophie Snow as Snow White
Drake Husky as Bashful
Ambrose Walnut as Peter Pan
Fauna Chocolate as Tinkerbell
Henry Periwinkle as Aladdin
Jason Osborne as the Genie
Liberty Harvey as Sleeping Beauty
Mystery eight figure to collect!

Each blind bag contains one baby figure and one accessory.

Price is for one mystery bag containing one random figure
In this sale you will be purchasing 1 x random bag (and you will randomly receive 1 of the figures and their specific accessory listed below)
Please note, that if choosing more than one random bag, there is a possibility you may end up with more than one of the same figure. Bags are sealed and we have no way of knowing which figures you will receive. In the case of double-ups we do not exchange or take returns on these items, as this is part of the fun and chance of the "random" pick.
Ages: 3+