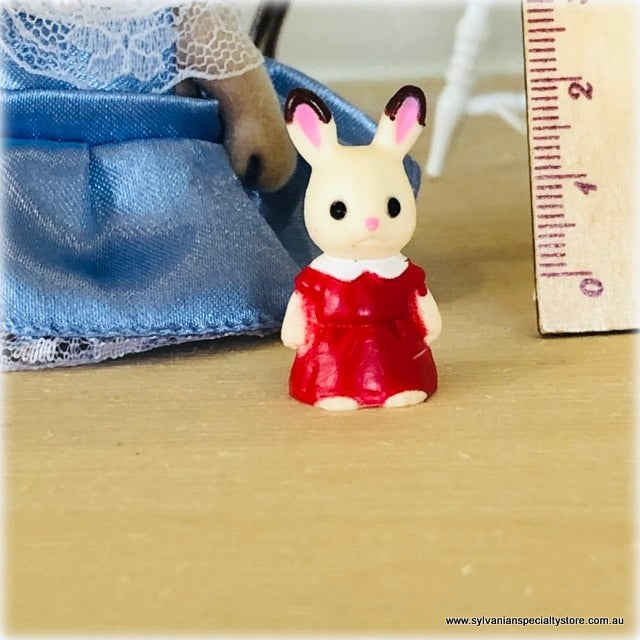 Sylvanian Families Mini Figure - Rabbit sister in red - 2.5 cm high - Christmas Toy
Sylvanian Families Mini Figures
Sylvanian Families Mini figures - Rabbit Sister in Red -  2.5 cm  high
Please note that these mini figures are not flocked (ie, doesn't have soft fur like the regular sized Sylvanian figures. These are a tiny plastic replica of Sylvanian Families figures)
In this sale you will receive 1 x minifigure (from 1.5 to 3 cm high depending on figure chosen) 
There is a limited quantity of these available. 
As these are individually hand-painted there may be minor imperfections.
The Sylvanian Families Miniature series are a miniature version of Sylvanian Families figures and sometimes furniture sets.  They are usually around 1/64 scale and are ideally sized as toys for the Sylvanian Families.  

These are Minifigures  (the height of the figures in the set is around 1.5cm to 2cm high, depending on which family figure it represents) The image below is not from this set, but the image is to illustrate the size of mini-figures in comparison to a regular Sylvanian Families figure.

 See our collection of other Sylvanian Families Miniature Kabaya sets in store
Age 3+ recommended.

Other full size Sylvanian Families or accessories appearing in images are only to display the size of these mini figures in comparison to a full size Sylvanian figure and these extra items in images are not included in the sale.